It's Day 2 of the
Pantry Challenge
. We started the New Year with corned beef and cabbage adapted from
this recipe
at
A Year of Slow Cooking
.
A successful
Pantry Challenge
requires knowing what you have. The easiest way is to take an inventory and meal plan. Meal planning prevents the deer-in-headlights freeze when asked "what's for dinner?" and reduces the temptation to cave and pick up supper on the way home.
We have a good stockpile so with some creativity, the need to purchase additional groceries will be easily kept to a minimum. This week we will need to buy eggs, milk, and sandwich cheese (sneaky kids have apparently swiped it all).
Breakfast
freezer waffles
oatmeal
Coco Wheats
cereal
eggs and toast x2
pancakes
Lunch
ham and cheese sandwiches
ham salad sandwiches
peanut butter and jelly sandwiches
cheese quesadillas
cheese toasties
baked macaroni and cheese with ham
leftovers
Supper
black bean burgers, salsa, corn, tossed salad
turkey, stuffing, sweet potatoes
tuna noodle casserole, peas
chili spaghetti, salad
horseshoes
, fruit
ham & beans, corn bread
lasagna, green beans, salad, garlic bread
Interested in participating in the
Pantry Challenge
? Link up at
Good Cheap Eats
.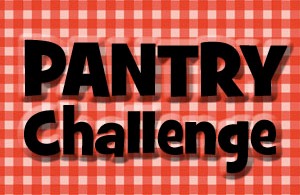 For more meal planning inspiration check out
OrgJukie
.